Everything you need to know about Google's new AC WiFi router can be found here.
The router is a 802.11ac device with 2.4GHz and 5GHz and 2×2 antennas, supporting beamforming. It's described as AC1200, so it should offer about 900Mbps for 5GHz connections, 300Mbps for 2.4GHz ones. It also has two gigabit Ethernet ports. For a router it also packs a lot of processing power: it's got a quad core processor, with 512MB RAM and 4GB flash.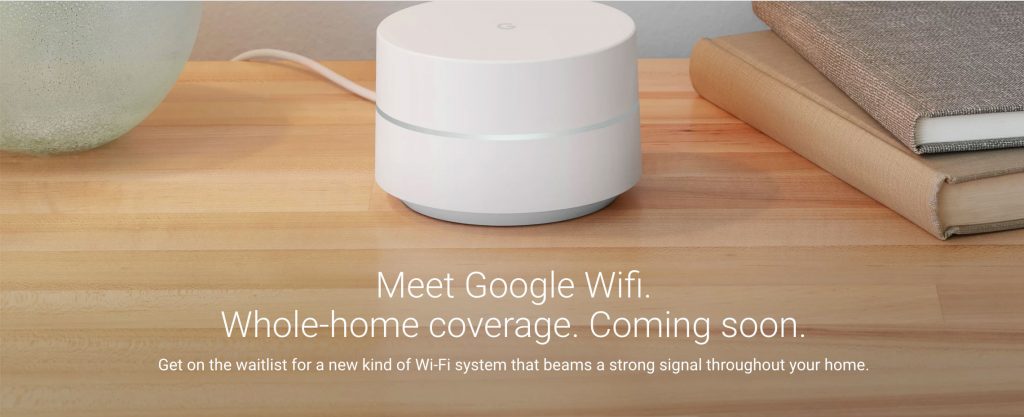 There's also a companion app to control the hotspots; you'll be able to control your kids' Wi-Fi access from the comfort of your phone.
Google says the new Google Wifi system has a built-in Network Assist feature set that uses logic to optimize the connection, allowing Wi-Fi devices, like smartphones and tablets, to automatically connect to the closest unit and on the best channel at a given time. This means you can walk around the house without worrying about getting disconnected or even losing signal strength.
Since your devices aren't smart enough to do that themselves, Google says the software simply forces your device off one access point, and automatically provides the login information for another.
The best thing about the Google Wifi is its price, which is $129 for a single unit or $299 for a set of three. This is much less than the Eero, which costs $200 for a single unit or $500 for three. (The price for the UK and Australia have not yet been announced.)
You do have to wait until early December to get your own, however, but you can start preordering the Google Wifi starting in November.
Google WiFi AC Router Specifications
Connectivity
AC1200 2×2 Wifi • Two Gigabit Ethernet ports
Wireless
AC1200 2×2 Wave 2 Wi-Fi
Expandable mesh Wi-Fi
Simultaneous dual-band Wi-Fi (2.4GHz / 5GHz) supporting IEEE 802.11a/b/g/n/ac
TX Beamforming
Bluetooth® Smart Ready
Ports
2 Gigabit Ethernet ports per point. Ports can be configured as WAN or LAN.
Color & Material
White • plastic
Material
Lightweight, durable plastic
Security
WPA2-PSK • Automatic security updates
WPA2-PSK
Automatic security updates
Infineon SLB 9615 trusted platform module
Memory
512MB DDR3L • 4GB eMMC flash
Quad-core CPU, each core up to 710 MHz
~9W consumed, 15W power adapter
Dimensions & Weight
4.17 in dia • 2.70 in H
Dimensions
Diameter: 4.17 in (106.12 mm)
Height: 2.70 in (68.75 mm)